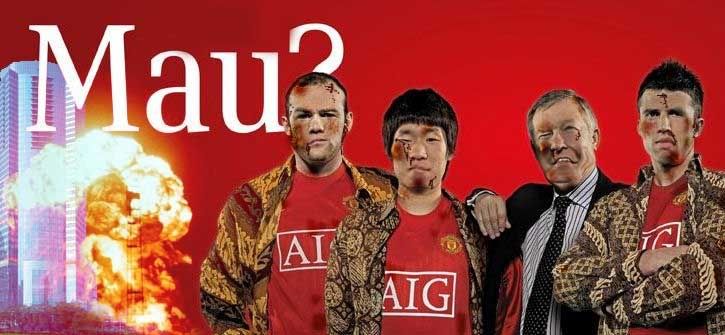 "Ini budi. Budi bermain bola" then today is'n the same again. we can change to "Ini MU, MU nggak jadi main bola"
GOOD ♥
I will talk in Indonesia. Because make me speak more easy to pour all of my mind NOW
Nah! Halo manchester United
gue bukan penggemar MU, tapi penggemar gila CHELSEA. tapi bukan berarti gue nggak suka sama pemainnya.
Gue seneng banget tentang yang pemain indonesia dibolehin ngelawan pemain bola dunia ini. Seneng banget gila! yaah walaupun gue tahulah nanti hasil akhirnya 10-0 atau 15-0 buat MU. tapi sekarang? perkiraan skor itu nggak mungkin bisa terbukti
MU HAS BEEN CANCELED THEIR PLAN TO GO TO JAKARTA BECAUSE THE BOMB
gue jadi mereka juga ogah buat dateng ke jakarta
untung aja mereka datengnya sabtu. bukan hari jumat.
kalau beneran jadi hari jumat, bisa bisa foro yang di atas jadi kenyataan
dan nama Indonesia bisa jadi semakin buruk di mata internasional, damn
intinya. gue benci banget sama pembom yang sekarang.
mereka tahu betul buat ngerusak indonesia. tepat banget milih waktu.
bikin semua keadaan di indonesia jadi gonjang ganjing
pariwisatalah, ekonomi, hubungan internasionalnya lah
dan kepercayaan para wisatawan asing udah pasti bakal kembali lagi kayak tahun 2003
How dare. Udah indonesia ancur, makin dibuat ancur aja. Bego banget sih yang ngebom.
Nggak cinta indonesia apa lo? kalau mau ngebom jangan di negeri sendiri kenapa sih? UPS SORRY haha i meant jangan ngebom sana sini. bom aja diri lo sendiri. bikin susah orang aja! apa untungnya sih? udah lo mati, negara lo juga bisa ikutan ancur. dan lo lebih parah lagi kena kutuk dari segala penjuru negara.
Gue yakin hidup lo di akhirat nggak tenang. Go to the downest hell, sucker!