Today, Muller come back to play in the field against Uruguay. I optimist that German will be the winner. But when i watched the match, Joachim Loew, Germany's coach changed the position and tactic for this match. But this position was too risk. How can i say something like that? It's because SO MUCH CHANGES! I'll explain one by one. First, the captain was changed. Lahm wasn't play, and the subtitute for him was Shwensteiger. I felt a little disappointed about this decision. My mini Lahm doesn't play in last match. But i was expected that Scwensteiger could did good job as a captain like Lahm did. Second, the goal keeper wasn't Neuer, but Butt. He was from Bayern Munich. But i still doubt about his capability to keep the goal gate from Uruguay. And the last but most shocked me that Klose, Trochowski, and Podolski weren't play in the field today. Really risk, wasn't that?
But moreover, i was really happy looked for
Özil
plays. Really good and wise when herd the ball to the penalty box and give it to Muller to shots. So many on goal for today. It was really fun and great match. Uruguay played so strong and attacked during the match until made the score two. It was funtastic. Because Uruguay's versus was Germany who famous with goals were makeshift in difficult to reach.
And this is the result. Winner position for Germany and wide smile on their face made me smiled too. I were dancing back then while watching Khedira shots the last goal, hahhaa. Muller seemed so free after the last goal. Totally great moments!
Now, i wanna tell my heroes in Germany and why i liked them.
1. Thomas Muller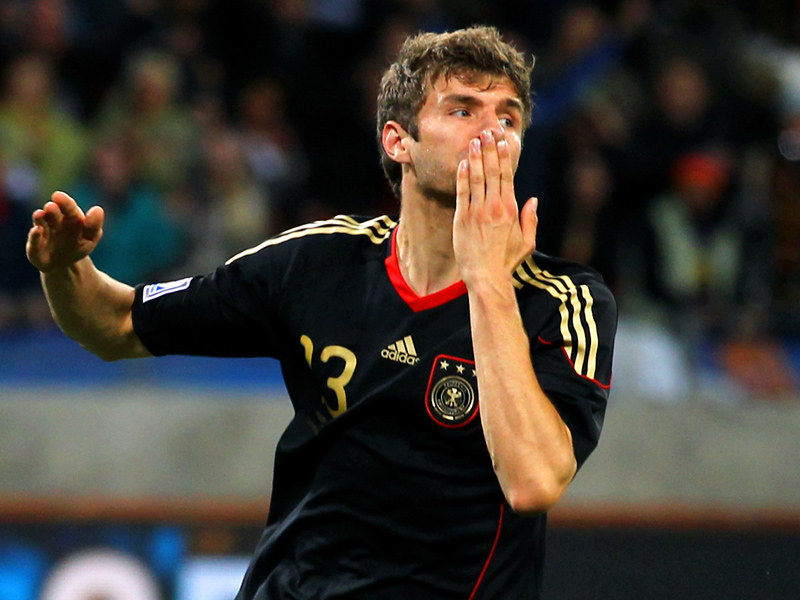 He is 21 years old, and
lch liebe dich
. He really has a nice leg to pass and drive the Jabulani to the oppossite goal box and shots directly face to face the keeper. The shots really powerfull, during this 2010, he made 5 goals in 6 match. If he can play back then against Spain, i bet he could do one or two goals! He really has a great talent to make a goal. Supper!
2. Mesut
Özil
nanaaa, my lovely player here. Back then i don't like his face because for Germany's face, i bet he looks weird with his eyes. And i know why his eyes so unique like that! Yup, because he isn't a pure deutsch, but a turkey people. He is a moeslem and always read al-qur'an before the match. The team said that he made germany's side look more different and various because they are solid even there are a little different. And they don't make
Özil
different with his activity like pray and read the al-qur'an before the match. Moreover, he really did a good job with the defence and tackle. Nice mate for Muller to catch the ball.
***
err, the match for tomorrow. i support the oranje team! And i hope Pulpo Paul made a mistake that choosed La Furia Roja again to win and out as the winner for this year. I really hope the result is Nedtherland who can take the throphy. Yeaay! Which team do you choose?
uoh, shakira! will my country's broadcasting on air her performance? i want to watched she made a bombshow that night. I don't want to watch the Dedy Corbuzaire's magic performance. I don't trust him and any expectation that he made -__- i want watch shakira's and the other artist theree